Union minister Anant Kumar's honorary tithi today. Anant Kumar Agli is a year old today. The pain of his separation is still unheard of among BJP workers, family members and political friends.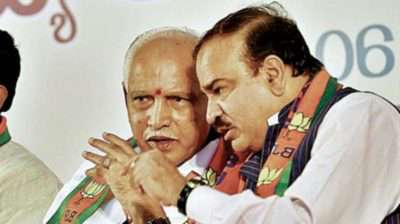 He had a close relationship with Union Minister Anant Kumar. Yeddyurappa and Anant Kumar were severely hurt. One year Punya Tithi background Yeddyurappa Anant Kumar remembers.
B.S. Yeddyurappa, a simple-minded person, organizer-in-chief, a link to the state and the center, a unique leader, my late Mr. # Anant Kumar, will be mind-boggling if we remember our day. Adamaya Chetana has written Anant Kumar as my sincere Shraddhanjali.
B.S. Yediyurappa
✔
@BSYBJP
A simple leader, organizational ingenuity, state and center link, unique leader, my late Mr. # Anant Kumar said, "If we remember our day, the mind will be heavy. My heartfelt shout out to Adamaya Chetanaye Anant Kumar as a pious woman.
View image on Twitter
1,757
5:24 AM - Nov 12, 2019
Twitter Ads info and privacy
163 people talking about this